Guide to Buying the Right Prescription Swimming Goggles
Are you having difficulty seeing clearly in the water due to shortsightedness or farsight and looking for the most suitable pair of prescription swimming goggles? Finding the right pair of prescription goggles can be confusing and challenging. It will depend on your use of the goggles, your face size and shape. At Swimfun, we provide different goggles to meet your various purposes. In addition, we offer an easy return policy. Because your online purchase can provide you with many more choices on the products, you don't have the luxury to try the products before purchasing. Our policy will eliminate your risks in buying and ensure your satisfaction. Moreover, we are a Sydney based company, and it will reduce much time in deliveries for Australian customers.
How to Choose the Right Pair of Goggles?
The first step is to determine the primary purpose of your swimming goggles.
– Is it for training, racing, or recreation?
– Is it for swimming indoor or outdoor?
– Is it for swimming or diving in a low light environment or bright light indoor environment or outdoor.
Serious swimmers and lap swimmers typically choose a racing style goggles and select low profile frames or "racing" in the model name.
prescription goggles with free Australia-wide express delivery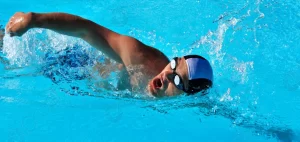 Swimmers who rarely do lap swimming and exercise more may look at recreational models as the designs are more fashionable.
We have goggles with different lenses for you to swim in different environments. The purposes are to have maximum visibility, as well as to protect your eyes. We have clear lenses, tinted lenses, mirrored lenses and polarized lenses.
In low-light conditions such as indoor pool, clear, amber, or light blue tinted lenses are better choices. They provide maximum visibility.
Mirrored lenses reduce brightness and offer glare protection—ideal for an outdoor swim and some indoor swimming.
Polarized lenses are designed to filter intense glare caused by light reflecting off flat, open water surfaces—they are suitable for overcast outdoor swimming days.
Aussies love water spots and a prescription goggle is essential if you are shortsighted. Visit www.swimfun.com.au for a great quality prescription goggle at an affordable price. Swimfun offers free express delivery for all orders for a limited of time, buy now.