Bus Hire Sydney for Easy Group Travels
Organise a group travelling or corporate bus transfer is a complicated task and finding the right busy hire Sydney company is even harder. Star Coaches is one of the most reliable coach charters Sydney providers to ease your group travel and corporate bus transfer. Our bus hire Sydney is the most cost-effective option when you are travelling in a group. With Star Coaches, getting from one point to the other, anywhere in the Sydney, Canberra day tours or Hunter Valley wine tour, has never been easier.
Our Services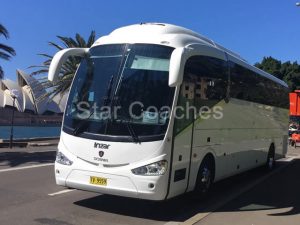 Star Coaches specialise in offering top-quality buses and coaches for a range of events, tours, and occasions. Whether airport transfers or wedding bus hire, Star Coaches transfer your group from one place to the other in style, comfort and safety. Our luxury coach charter Sydney services assist in making your time in Sydney much easier.
Airport Transfer – We thoroughly understand how stressful it can be to travel to and from the busiest airport in Australia. Whether you are arriving in the city for the first time or leaving the city, our range of bus hire Sydney services are always on time for your flight.
Events Transfer – From wedding to corporate parties, our coach charter Sydney service covers it all. Star Coaches offer buses and coaches for any size and shape of across Sydney and surrounding suburbs.
Day Tours – Sydney and the surrounding areas are beautiful that has so much to offer and waiting to be discovered by you. Our coach charter helps you to discover the top tourist attractions in the city, including the Opera House, the Sydney Harbour Bridge, Chinatown, the Rocks, Bondi Beach, and if you are looking to see the capital city of Canberra, you can join our Canberra day tour or relax with the Hunter Valley tour and enjoy the best wine in region. We can have a good day in our luxury coaches.
Our services also include cruise ship transfers, school transfers, and various other day tour services.
Why Star Coaches Bus Hire Sydney Services?
We have vehicles of all sizes that cater to both small and large group travellers in and around the city. Star Coaches ensure high-quality and safe buses and charters for all your travel requirements. Our customer service is available 365 days of the year, and 24×7 for coach and bus hire Sydney anytime you need. You may speak to our competent online advisers to book coach charter Sydney service. Our years of experience and a wide range of vehicles to offer to our valued customers makes one of the most trusted services in the region.
It is our pride to help the customers with our bus hire Sydney service 24/7. If you are looking for multiple coaches for large groups or if you need it at the last minute, Star Coaches is one of the best bus hire service providers to call and hire coach charter in Sydney. Our friendly team of customer service is available throughout the year at all hour. We try to make your Sydney travel as much stress-free as possible.